ARK:ive Men's ARK Ornö X™ 2021
Sale price
1 500 kr (-75%)
Sale
In stock
Out of stock
This combination is not available
Our flagship suit ORNÖ X™, evolved in 2021. Still our warmest, most buoyant suit for cold conditions and choppy waters—now even lighter. We know that every single gram counts when fighting lactic acid, tugging your partner through the water and praying that your lungs hold up 'til the finish line. ORNÖ X™  is an optimized version of what came to be the world's fastest suit.

Are you able to keep up?

TECHNOLOGIES
Premium Yamamoto #40 LIMESTONE Neoprene
Higher density, durability and insulating properties than any other option on the market. Holds up over time, without brittle cracks that risk letting water in.

Remarkably Low Weight
Only 510g (men's size M).
Thermal +
Exceptional warmth-to-weight ratio, keeping your muscles toasty and fully efficient despite brisk water temperatures. Take our word for it, ARK and the sport of swimrun were bothfounded less than 10 degrees below the arctic circle.

Anti-leak Construction
A second skin that completely seals out any cold water trying to seep through the material and down your neck. With an ARK suit, retaining warm muscles isn't a sensation. It's a minimum.

Hi-Buoyant 5 mm Layered Foam Construction
Provides your core with extra and improved flotation, necessary to retain speed and energy when swimming with trail running shoes in choppy waters.

Running+ Bottoms
Game-changing, stretchy bottoms, providing your muscles with maximum freedom of
movement when scrambling along rocky shorelines or blazing through the woods.

UltraFlex Inner Liner
Prevents chafing and provides pleasant freedom of movement instead of constricting your thigh muscles when fighting lactic acid on the last sprint to the finish line.

Smooth Neck/Collar with Pressed Edge
Keeps chafing to an absolute minimum, while improving the durability of the suit as a whole. Comes in handy for the runner that likes cabbing down on longer trail sections.

Back Pocket with Flap Closure
A smart pouch to store your paddles, nutrition or other race essentials, safely secured and easily accessible.

Separate Arm Sleeves Included
A brilliant layering option for extra warmth in cold conditions—and extra ventilation for longer running sections.



World's most ultimate swimrun suit
The name Ornö is in honor of the legendary island Ornö, which is the location for the longest running distance during the ÖTILLÖ Swimrun World Championships. This phase of the race puts not only most athletes to the tests but also the running capabilities of the suit.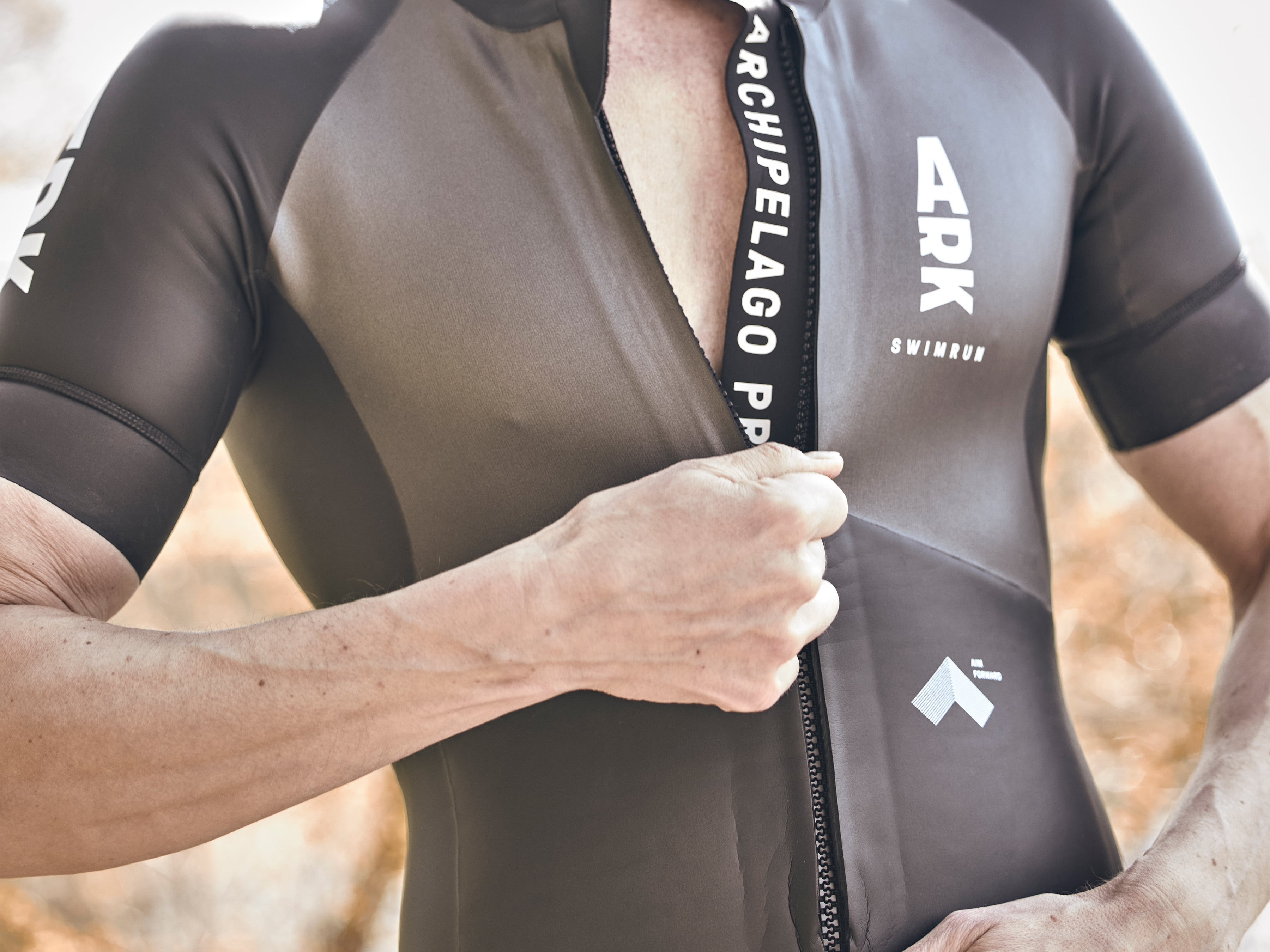 "Light weight"
510 g
Low weight is a key in swimrun and our main topic when it comes to product development. With its 500 g (women's M) and 510 g (men's M) ARK Sports ORNÖ X™ is incredibly low in weight while keeping the thermal and buoyancy properties.
Thermal +
ARK Sports ORNÖ X™ is the most thermal suit in the ARK sports swimrun suit line.
Most flexible Yamamoto LIMESTONE neoprene
Upper part is made of the most flexible glide skin neoprene from Yamamoto. The neoprene gives you thermal protection and reduces drag.
Buoyancy foam
Highest buoyancy FOAM panel increases the floatation compared to neoprene, the result is a lighter but also more buoyant suit.
Neoprene legs
Leg parts are made of covered neoprene for increased warmth and buoyancy. Outer fabric is very durable and treated with a long-lasting water-repellent coating that reduces drag.
Running+
We know that effortless running comfort has a big impact in swimrun. ARK Sports ORNÖ X™ is designed for optimal running properties. Neoprene material in the leg part keeps you warm and allows you to run with lowest restrictions.
Master Buoyancy belt - FOAM +
ARK Sports' signature "master belt" panel is strategically placed around the core of your body. The construction gives you stability and make the suit stay in place while swimming. The new 5mm buoyancy FOAM panel increases floatation and has less weight compared to neoprene. ARK Sports ORNÖ X™ is the most buoyant suit in the ARK Sports swimrun suit line.
Anti-leak neck construction
ARK Sports' signature anti-leak cut minimizes water to enter and allows you to keep dry. This means we can use thinner neoprene and still keep the warmth as if using thicker (and heavier) neoprene.
Neck and collar parts are designed to seal when swimming. The shape is constructed to snug even when moving around a lot in the water
Sleeve cuffs are equipped with a unique construction. The 0.3mm cuff will close tightly around the upper arm with a smooth fit, gripper pattern is added for extra support.
Back pocket
ARK Sports ORNÖ X™ features a back pocket for extra belongings (for example energy).
The pocket is split in two parts and covered with an overlapping flap. It's placed on the lower back and can easily be reached from both the right and left side.
Ultra stretch liners
Ultra Stretch liners make the suit extremely flexible, enabling you to reach a full stretch when swimming.
Zipper
ARK Sports ORNÖ X™ is equipped with a robust YKK no10 front zipper.
Separate Arm-Sleeves
ARK Sports ORNÖ X™ comes with separate arm-sleeves which makes it easy to customize to your preferences depending on the climate. The sleeves are made of 1mm super stretch glide skin neoprene.
Size guide
Weight

Height

60 kg
65 kg
70 kg
75 kg
78 kg
81 kg
84 kg
87 kg
90 kg
95 kg
100+ kg
160 cm
XS
XS
XS
XS
S
S
S
S
M
M
L
165 cm
XS
XS
XS
S
S
S
S
M
M
M
L
170 cm
XS
S
S
S
S
S
S
M
M
L
L
175 cm
S
S
S
S
S
S
M
M
M
L
L
178 cm
S
S
S
S
S
S
M
M
M
L
L
181 cm
ST
ST
ST
ST
ST
M
M
M
L
L
L
184 cm
ST
ST
ST
ST
ST
MT
MT
MT
L
XL
XL
187 cm
ST
MT
MT
MT
MT
MT
MT
L
L
XL
XL
190 cm
MT
MT
MT
MT
MT
MT
MT
L
L
XL
XL
193 cm
MT
MT
MT
MT
MT
MT
L
L
XL
XL
XL
196+ cm
MT
MT
MT
MT
MT
MT
XL
XL
XL
XL
XL
ST = Small/Tall
MT = Medium/Tall
Please note:
The size chart is just a guide. Since the fit is most individual you should try the suit. Our suits are flexible, if you are between two sizes we recommend you to take the smaller size.