ARK:ive Women's ARK Utö™ 2021
Sale price
4 240 kr (-20%)
Sale
In stock
Out of stock
This combination is not available
Our most innovative race suit to date, developed in close collaboration with the world's leading swimrun athletes. Made for race courses located in warm to cool climates, this less insulated suit offers our best engineered functionality-to-weight ratio. At only 485 grams—and our non- restricting Running++ bottoms—most fast athletes opt for UTÖ™ on race day. It's our No 1 tool for swim run adventurers looking to push their own abilities—and former speed records.
TECHNOLOGIES
Premium Yamamoto LIMESTONE Neoprene
Super smooth, durable and insulating material, beating any other option on the market. Holds up over time, without brittle cracks that risk letting water in.
Anti-leak Construction
A second skin that completely seals out any cold water trying to seep through the material and down your neck or arms.
GlideSkin Coating
Designed to decrease friction, making you smoother and faster in the water.
Woven Stretch Fabrics with Water-Repellent Coating
Thin yet highly functional materials that contribute to low weight and no constrictions.
FOAM+ Master Buoyancy Belt
A lightweight option helping your core with some extra flotation, necessary to retain speed and energy when swimming with trail running shoes.
Running++ Bottoms
Our game-changing, stretchy bottoms—evolved. Made with a shaping power fabric and water repellent coating, for race courses where full sprint is the only way to get ahead.
UltraFlex Inner Liner
Prevents chafing and provides pleasant freedom of movement instead of constricting your thigh muscles when fighting lactic acid on the last sprint to the finish line.
Smooth Neck/Collar with Pressed Edge
Keeps chafing to an absolute minimum, while improving the durability of the suit as a whole. Comes in handy for the runner that likes cabbing down on longer trail sections.
Back Pocket with Flap Closure
Increased space to store race essentials such as gels and nutrition to boost speed and power throughout the race.
Separate Arm Sleeves Included
A brilliant layering option for extra warmth in cold conditions—and extra ventilation for longer running sections.
Weight: 485 g (men's size M)
World's most innovative
swimrun suit
The name Utö honors the island Utö in the Stockholm archipelago. If there is a Mecca of swimrun, Utö is the spot. This is the last island and also the finish of ÖTILLÖ Swimrun World Championships, a vision, and a dream for many swimrun athletes.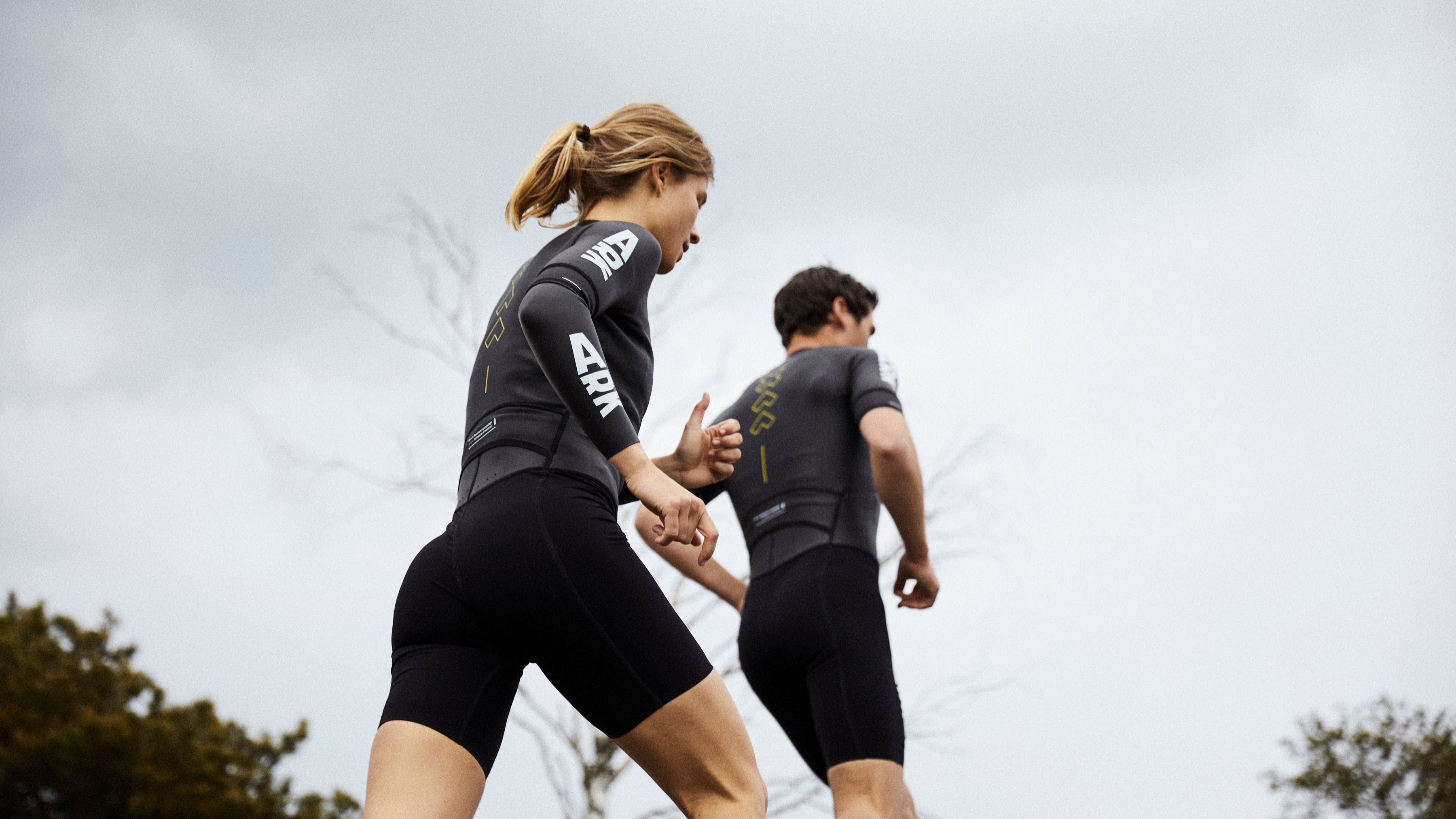 "Lightest weight"
485 g
Low weight is a key in swimrun and our main topic when it comes to product development. With its 485 g (men's M), UTÖ™ is the lightest suit of its kind.
Unique material combination
UTÖ™ is made of a unique material combination that makes the suit extremely lightweight and optimized for the next level of swimrun performance.
Yamamoto LIMESTONE neoprene
The upper part is made of the most flexible glide skin neoprene from Yamamoto. The neoprene gives you thermal protection and reduces drag.
Buoyancy foam
A new buoyancy FOAM panel increases the floatation compared to neoprene. The result is a lighter but also more buoyant suit.
Woven stretch fabric
Leg parts are made of premium woven stretch-fabric. This is one of the fastest and most innovative fabrics available. The fabric is extremely lightweight with the lowest water absorption. Treated with long-lasting water repellent coating which reduces drag significantly.
Running++
We know that the running has a big impact in swimrun. UTÖ™ is designed with optimal running properties. The hi-end fabric in leg part allows you to run with zero restrictions.
Master buoyancy belt – Foam +
ARK's signature "master belt" panel is placed around the core. The construction gives you stability and make the suit stay in place while swimming. The new 4mm buoyancy FOAM panel increases floatation and are lighter in weight compared to neoprene.
Anti-leak neck construction
ARK's signature anti leak cut minimize water to enter and allows you to keep dry. This means we can use thinner neoprene and still keep the same warming properties as if using thicker (and heavier) neoprene.
Neck and collar part is designed to seal when swimming. The shape is constructed to snug even when moving around a lot in the water.
Arm ends are equipped with a unique cuff construction. The 0.3mm cuff will close tightly around the upper arm with a smooth fit.
Back pocket
UTÖ™ features a back pocket for extra belongings (for example energy).
Ultra stretch liners
UltraStretch liners makes the suit extremely flexible.
Zipper
UTÖ™ is equipped with a YKK № 5 front zipper. This model is smaller and lighter compared to normal № 10 zipper style.
Separate arm-sleeves
UTÖ™ comes with separate arm-sleeves which makes it easy to customize depending of climate. The sleeves are made of 1mm super stretch glide skin neoprene.
Size guide
Weight

Height

50 kg
53 kg
56 kg
59 kg
62 kg
65 kg
68 kg
71 kg
74 kg
78 kg
82+ kg
155 cm
XS
XS
XS
S
S
S
S
M
M
M
M
160 cm
XS
XS
S
S
S
S
M
M
M
M
M
163 cm
XS
S
S
S
S
S
M
M
M
M
L
166 cm
S
S
S
S
S
M
M
M
M
M
L
169 cm
S
S
S
S
S
M
M
M
MT
MT
L
172 cm
ST
ST
ST
ST
ST
M
MT
MT
MT
MT
L
175 cm
ST
ST
ST
ST
M
M
MT
MT
MT
L
L
178 cm
ST
ST
ST
ST
MT
MT
MT
MT
L
L
L
181 cm
ST
ST
ST
MT
MT
MT
MT
L
L
L
L
184+ cm
ST
ST
MT
MT
MT
MT
L
L
L
L
L
ST = Small/Tall
MT = Medium/Tall
Please note:
The size chart is just a guide. Since the fit is most individual you should try the suit. Our suits are flexible, if you are between two sizes we recommend you to take the smaller size.