Women's ARK Vigg™
In stock
Out of stock
This combination is not available
The iteration of our most ultralight suit, tested in demanding conditions but primarily designed for warmer climates and sprint races where less insulation and buoyancy are needed in favor of light weight. We fine-tuned Vigg with roomier pockets, a softer neck and a tougher leg construction, all while keeping the weight at same ole' 310 grams. It still absorbs less water and guarantees basically zero restriction. If you're hitting comps in Spain or Portugal with record times on your mind, VIGG™ is your rigg.
TECHNOLOGIES

Premium Yamamoto LIMESTONE Neoprene
Super smooth, durable and insulating material, beating any other option on the market. Holds up over time, without brittle cracks that risk letting water in.

GlideSkin Coating
Designed to decrease friction, making you smoother and faster in the water.
Anti-leak Construction
A second skin that completely seals out any cold water trying to seep through the material and down your neck.

Woven Stretch Fabrics with Water-Repellent Coating
Upper body made with thin yet highly functional materials that contribute to low weight and no constrictions.

Running++ Bottoms
Our game-changing, stretchy bottoms—evolved. Made with a shaping power fabric and water repellent coating, for race courses where full sprint is the only way to get ahead.

Unrestricted Mobility
Total freedom of movement when crawling, scrambling, running and transitioning.
Smooth Neck/Collar
Keeps chafing to an absolute minimum, and flexibility at max. Now made of an even softer stretch material.
Breathable
Well ventilated materials that help keep your body temperature at bay while running in hot weather.
Back Pocket with Flap Closure
Increased space to store race essentials such as gels and nutrition to boost speed and power throughout the race.
Ultralight Suit
Only 310 grams (men's size M).
World's lightest swimrun suit
The name Vigg is inspired by the alert bird that always pops up in our archipelago backyard, a fast flyer, and a great diver.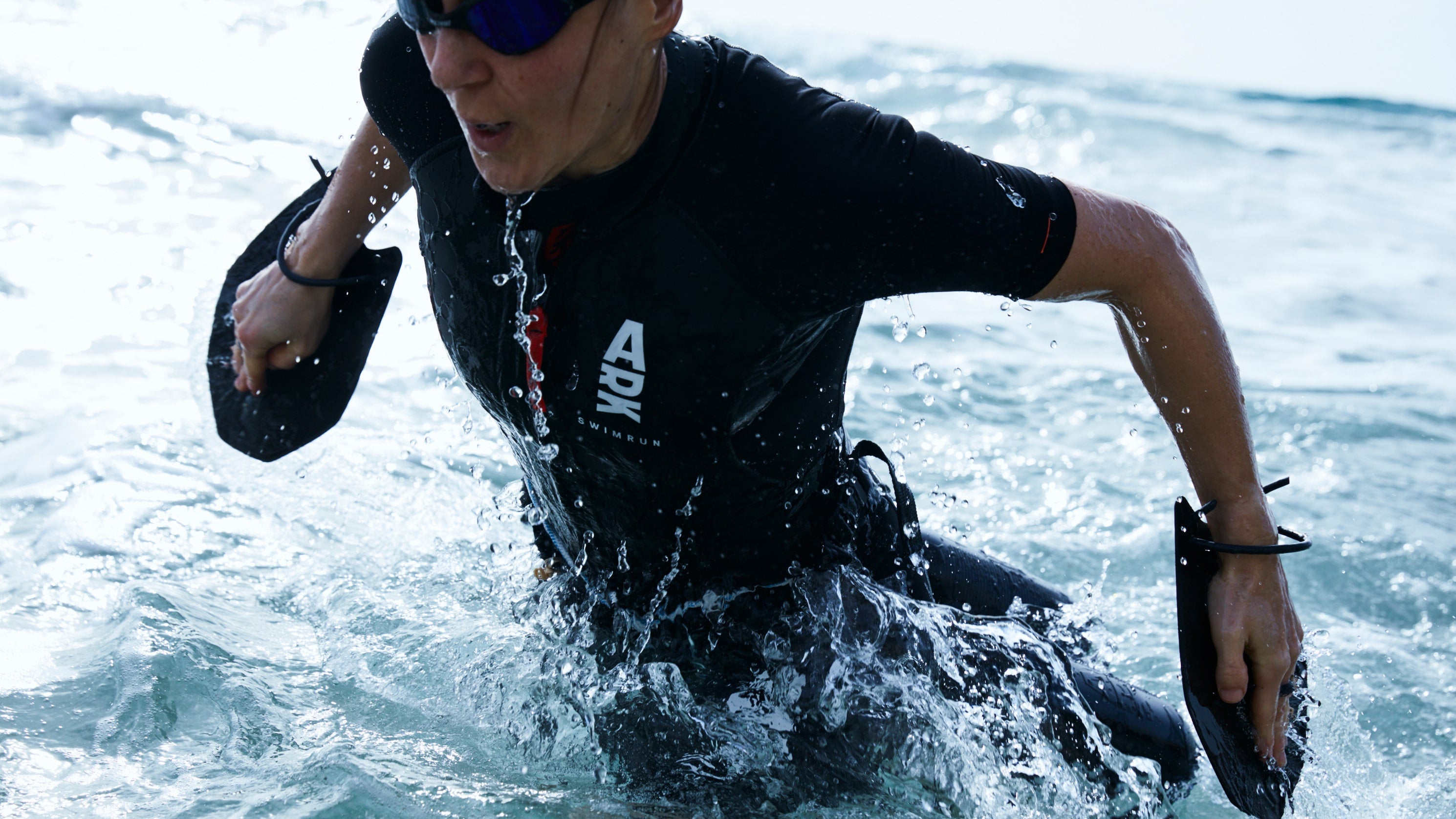 Featherweight
310 g
Low weight is key in swimrun and our main topic when it comes to product development. VIGG™ is the lightest model in the ARK line. The weight is only 310 g! (men's size M)
Unique fabric combination
VIGG™ is made of a unique fabric combination.
Yamamoto LIMESTONE neoprene
The front part and panels around the core are made of glide skin neoprene from Yamamoto. The neoprene gives you thermal protection and reduces drag.
Oekotex certificated woven stretch fabric
The remaining parts are made of premium woven stretch-fabric. This is one of the fastest and most innovative fabrics available. The fabric is extremely lightweight with the lowest water absorption. Treated with long-lasting water repellent coating which reduces drag significantly.
Running++
We know that running has a big impact during swimrun. VIGG™ is designed with optimal running properties. The hi-end fabric in the leg part allows you to run with zero restrictions.
Anti-leak construction
ARK's signature anti-leak cut minimizes water to enter and allows you to keep dry. This means we can use thinner neoprene and still keep the same warming properties as if using thicker (and heavier) neoprene.
Master belt
The signature ARK "master belt" panel is placed around the core. The construction gives you stability and makes the suit stay in place while swimming, it also increases the buoyancy.
Neck cut
Neck and collar part is designed to seal when swimming. The shape is constructed to snug even when moving around a lot in the water.
Arm cuffs
Arm ends are equipped with a unique cuff construction. The 0.5 mm cuff will close tightly around the upper arm with a smooth and compact fit.
Back pocket
VIGG™ features a back pocket for extra belongings (for example energy). The pocket is split into two parts and covered with an overlapping flap. It's placed on the lower back and can be reached from both the right and left sides.
Zipper
VIGG™ is equipped with a YKK №5 front zipper. This model is smaller and weighs less compared to the №10 zipper style.
Size guide
Weight

Height

50 kg
53 kg
56 kg
59 kg
62 kg
65 kg
68 kg
71 kg
74 kg
78 kg
82+ kg
155 cm
XS
XS
XS
S
S
S
S
M
M
M
M
160 cm
XS
XS
S
S
S
S
M
M
M
M
M
163 cm
XS
S
S
S
S
S
M
M
M
M
L
166 cm
S
S
S
S
S
M
M
M
M
M
L
169 cm
S
S
S
S
S
M
M
M
MT
MT
L
172 cm
ST
ST
ST
ST
ST
M
MT
MT
MT
MT
L
175 cm
ST
ST
ST
ST
M
M
MT
MT
MT
L
L
178 cm
ST
ST
ST
ST
MT
MT
MT
MT
L
L
L
181 cm
ST
ST
ST
MT
MT
MT
MT
L
L
L
L
184+ cm
ST
ST
MT
MT
MT
MT
L
L
L
L
L
ST = Small/Tall
MT = Medium/Tall
Please note:
The size chart is just a guide. Since the fit is most individual you should try the suit. Our suits are flexible, if you are between two sizes we recommend you to take the smaller size.